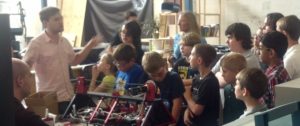 "Build, then build some more," was the advice John Thornton, the president of Astrobotic gave the students touring his facility Friday as part of the Grow a Generation Space Robots Exploration Day.  It was a hopeful message, encouraging students to develop the skills they need to enter a new era of space exploration, science, tourism, resource utilization and mining. He spoke of an industry that is undergoing revolutionary growth in the United States, China, Russia, and India; start-ups and universities competing with nations to land on the Moon; private industry offering a decreased cost to get off planet, and the current state of robotic technology that makes off planet terraforming and mining possible.
The kids were captivated by the demonstrations of a new zipline Astrobotic is testing to enable the robotic exploration of the caves and sub-surface caverns of the Moon. The company's offices had a Mythbuster's workshop feel.  One an engineers, Steve McGuire (a Beaver County graduate from Ambridge high school), excitedly pointed out the fishing reel they used to create their prototype. Parents (yes – I made the parents build) and kids had spent the morning building models of Curiosity, Cassini-Huygens, Robonaut, Spirit and Opportunity, the Phoenix Lander and Sputnik out of cardboard, duct tape, Lego Mindstorm parts and sensors, network cable and spare parts.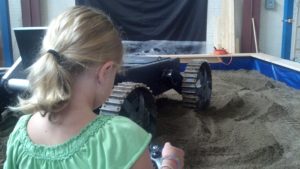 A high point came as each student got to use an X-Box controller to drive the lunar excavation robot. The robot was about the size of a golf cart with tires to grip the lunar surface and Kevlar scoops to dig into the soil.  Imaginings of one day visiting the moon filled their minds as they operated one of the robots that will lay the groundwork for future human colonization.
We asked about the path to become one of the roboticists that worked at the desks and typed diligently at their equipment monitors.  They were some of the best engineers in the world:  mechanical, electrical, computer programming, avionic, robotic, composite materials (some great questions and answers were the different benefits of titanium, carbon steel, aluminum, Kevlar, and in lunar conditions).  The key to employment was not only good grades and honed math skills, but a portfolio of projects each had passionately built or collaborated on. Parents and kids left inspired to find more opportunities to build, and build some more.
In that spirit, I list below the better engineering and design opportunities I am aware of.  Grow a Generation is available with online tutors and coaches if your children, teens, and young adults want to pursue some of these with assistance and support. Otherwise, enjoy as you build, and build some more!
Grades PK-3
Build for the joy (record great achievements with photos (now 3-D scans) before giving them to someone or donating them for another's use).
Get inspired with Sylvia's Mini-Maker Show
Grades 4-8
Build for a purpose (collaborate with others, particularly those in need, to create apps, bookshelves, Minecraft virtual worlds that educate others (for example, a walkthrough to understand where your community's water comes from).
Mission: Solar System (NASA and PBS's Design Squad Nation have teamed up to create a series of fun, space-based engineering challenges for children in grades 4 to 8.)
Grades 8-16
Build with a passion (get crazy, pick what you are passionate about (slushy machines were an example of an Astrobotic applicant), and start building).
Arduino (Start with the TED Talk, subscribe to online forums (check out the Mars Rover Replica), and start making.)
http://www.engineeringcontests.com/
Products to Buy (Hint – ask grandma for Christmas gifts)
Make an Arduino-Controlled Robot (Make: Projects)