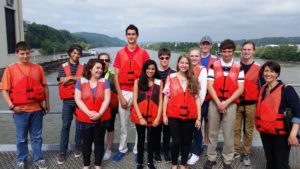 The last day of the 2016 STEM Careers Tour began with a visit to the Emsworth Locks and Dams which is operated by the U.S. Army Corp of Engineers. It is one of six major river facilities on the Ohio River in the Pittsburgh Engineering District located near the towns of Emsworth, Avalon and Ben Avon, Pennsylvania, 6.2 miles below Pittsburgh. It was built in 1919 at a cost of $5.8 million and has undergone several renovations. Today it averages about 470 commercial lockages every month and about 375 additional lockages of pleasure crafts during the summer months.
The Pittsburgh District of the US Army Corp of Engineers is responsible for providing the engineering expertise that is needed for the design and upgrades of the Emsworth Locks and Dams. Located in the William S. Moorhead Federal Building in downtown Pittsburgh they are responsible for water infrastructure, environmental management and restoration, response to natural and manmade disasters, and engineering services.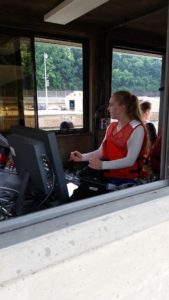 When we arrived for our tour, we were outfitted with life jackets, and began the walk over to the lock system. We were fortunate to see a commercial barge in the lock chamber waiting for the water to rise, so it could continue its journey upstream. As the vessel waited in the chamber, valves gradually let water into the chamber from the upper pool behind the dam through culverts in the lock wall. It usually takes about an hour for the water level to reach the desired height. A boat usually waits about an hour for the water levels to reach equilibrium. No pumping is necessary since the water moves by gravity. Once the water reached the same level on both sides of the gates, one set of gates was opened to let out the boat. Our guide let the students operate the controls and open the lock gates. So cool!
We next toured the gated dams located at the Emsworth site. The gates dams are used to increase the control of the water levels in the river to help aid in river transportation. They have no effect, neither positive nor negative, on the flood heights. There are large concrete piers that house the equipment that raises and lowers the dams. The amount of water passing under the gates is increased when the river flow is high and it is decreased when river flow is low in order to maintain the river at a constant level. Due to the high piers the dam is easily seen from downriver, however boaters still need to remain caution for they can be caught in the strong currents that exist on either side of the dam. The view from on top of the dam was breathtaking, but the tour is not recommended for those with a fear of heights.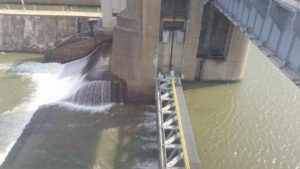 Touring the Emsworth Locks and Dams was definitely a highlight of the 2016 STEM Careers Tour. We were so fortunate to have a beautiful to tour and arrive during a lockage!