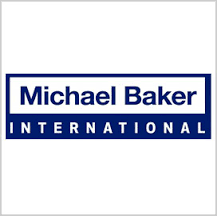 One of the most exciting aspects of a classroom teacher's job is to connect their curriculum to real-world applications.  Facilitated by Grow a Generation's STEM Career Tours, students enrolled in the Introduction to Computer-Aided Design and Drafting course at Cardinal Wuerl North Catholic High School were able to see how their newly acquired skills are put to work in Greater Pittsburgh.  This blog will highlight student experiences on the first stop of the STEM tour, Michael Baker International.
Our experience at Michael Baker immediately validated the CADD curriculum at CWNCHS.  Students had the opportunity to see the actual models used in the construction and renovation of our roadways.  The models were generated using the same computer software we use in the classroom.  In fact, the models looked strikingly similar to the types of projects students had been completing throughout the first semester.  Although the projects were more robust, drafters had to use the same skills to develop them.
Students work with the bridge inspector, training software.  Yet another example of computers facilitating the field of transportation engineering.
One of the critiques of the course from one student's perspective, Landon Pringle – a junior at CWNC, is that the content can be "tedious, and kind of boring."  That same student couldn't imagine the amount of detail oriented effort if would take to create such a model.  When asked for his thoughts, Landon replied, "I don't think I could be a transportation engineer.  I mean it's cool, but painstaking."  From a teacher's perspective, it means a lot to see that the skills used in the classroom are necessary in the work place.  Being able to reveal that to a student is what teaching is all about, even if they realize this particular career field doesn't fit their skill set.
The CADD curriculum at CWNCHS emphasizes the capability of computers to increase, Precision, Efficiency, and Communication in the design process.  Of these three, Efficiency in the field of transportation engineering, was on full display at Michael Baker International.  Representatives showcased Michael Baker's very own software that automates computer generated renderings of bridge cross-sections.  By simply inputting a few dimensions that are specific to the project, a drafter can efficiently compile a set of drawings to be quality checked by an engineer.  A second tool Michael Baker highlighted was bridge inspection, training software.  Students used the same software bridge inspectors are trained with to examine a virtual bridge; they navigated an environment, selected tools and analyzed structural concerns.  While this not a drafting application it is a prime example of using computers to increase efficiency in the field of transportation engineering.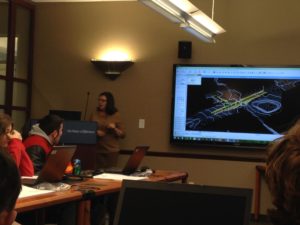 All in all, the time spent with Michael Baker International enriched the classroom experience.  CWNCHS is grateful for the opportunity to team up with STEM Career Tours and provide this trip for our students.