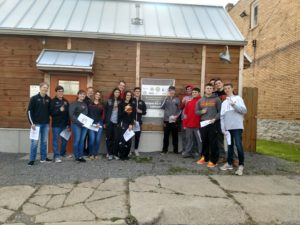 My name is Tim Roos, I'm a sophomore at North Catholic, and I recently went on the sustainability field trip at North. On the field trip, we stopped at the Oasis Farm Fishery in Homewood. The main topic of the tour as sustainability, and how Oasis has incorporated it into its function. Homewood is what is considered a food desert, which is an area that has no access to fresh fruits or vegetables.
At Oasis Farm Fishery, our tour guide, Casey, led us around the greenhouse. There were several aquaponics and trellis systems, growing different types of vegetables including lettuce turnips and beets. Oasis Farm Fishery is impacting its community in more than one way. It is providing vegetables and tilapia to the community, while also offering educational opportunities and is having a positive influence in its surrounding area, helping a community in need.
Our Bio class discuss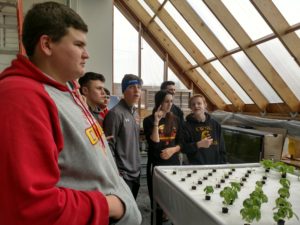 ed sustainable agricultural practices such as aquaponics, but I know so much more now that I went to Oasis Farm Fishery. For instance, I didn't know that you want the roots of plants to be white, which shows that there is a good amount of oxygen present. Oasis Fishery is using the most with what they've got. If the temperature becomes too hot in the greenhouse, they cover the sides with a metal-mesh cover, that reflects 50% of the sunlight and warmth, so the vegetables don't fry to death. Every so often insects enter the greenhouse and eat away at the crops. Once Casey notices the insect problem, he will introduce a predator to the greenhouse. For example, if aphids are the problem, he would introduce ladybugs.
Since Day 1 our biology teacher, Mrs. Steiniger, has taught us that conservation starts with the community. We must adapt to our Earth's needs. Organizations like Oasis Farm Fishery are pioneers for the future and set a great example for future generations.