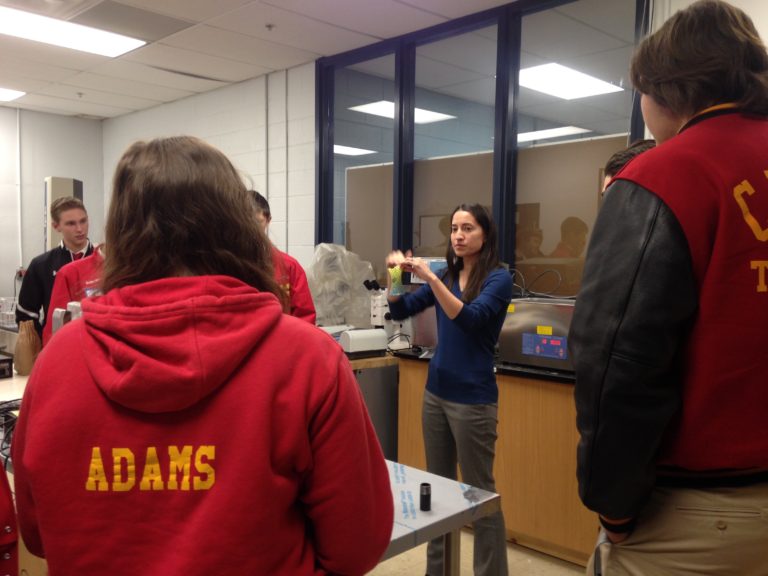 One of the most rewarding challenges for a classroom teacher is to use curriculum as a means to connect students to their desired end, to stimulate their thinking and illuminate possible career paths. Facilitated by STEM Career Tours, students enrolled in the Introduction to Computer-Aided Design and Drafting course at Cardinal Wuerl North Catholic High School were able to see how their newly acquired skills are put to work in Greater Pittsburgh. This blog will highlight student experiences on the second stop of the STEM tour, Robert Morris University's Department of Engineering.
Students immediately contrasted the scale of RMU's STEM efforts to our own at CWNC. They were blown away by the amount of computer aided machinery available to the engineering students. As a teacher, it was encouraging to hear phrases like "I might just apply here," and "wait, you mean students can use all of this?"
In our CADD class, students have been using software to create digital models. At RMU, students got to see how these models can be fabricated through the manufacturing process. Computer-aided manufacturing (CAM) was on full display in the department of engineering, and it peaked students' curiosity and creativity. They wondered how a 2D drawing could be used to guide the arm of a robotic router and etch a precise name into a plastic block. They also mused about the countless other applications of this technology. Seeing this inspired me to push the curriculum further in future iterations of this course. It is my goal to provide opportunities for students to fabricate their own drawings and complete the CADD-CAM loop.
Our trip to RMU gave students a taste of what it would be like to continue to develop their CADD skills at the university level, they also got a literal taste of college when we stopped for lunch at a campus dining hall. Over lunch, I had the opportunity to chat with some students about their experience. Flashy highlights included the laser scanner that can generate a 3D CADD model from live readings in real-time and the massive machine responsible for pressing out plastic molds, but the most impactful comments involved a deeper realization. Students recognized that the seemingly simple skills they are developing in class are being honed at universities across the nation and deployed to solve some of our generations most pressing challenges. For example, we learned CADD-CAM is assisting concussion research and the development of prosthetics for amputees.
I like to change the narrative on the classic question "what do you want to do when you grow up?" Instead, I ask students what problem they are interested in solving with their life's work. On this stop of our STEM Careers Tour, students saw that RMU is asking the same question of its engineering students.