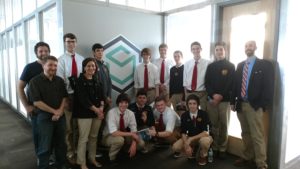 On Friday, February 17th, 2017, several North Catholic students began their venture into the Computer Science field with a visit to ContainerShip. Found in Oakland Pittsburgh, ContainerShip is a Multi-Cloud Automated Server, in other words ContainerShip gets rid of the hassle and brings anything you could desire onto the Internet and into the public's hands.
Being a computer programmer no longer means sitting in a dark room typing endless series of code. ContainerShip has a very modern and comfortable environment for its employees. Between the pleasant gleeful environment and the Ping-Pong and Foosball tables one can quickly see how enjoyable and rewarding a job in the computer science field is. Once we were there and had a quick peek around, ContainerShip's CEO, Phil Dougherty, took us into their meeting room and began breaking down what their operation exactly is. He gave the students some background of himself and the company and how they monitor and aid in traffic conditions for other websites and Internet applications.
Phil Dougherty explained how there is traffic when it comes to the Internet, sometimes a website may undergo millions of visits from different users in a sort of rush hour sense while on the contrary the same website may experience times when there is no one on their website. ContainerShip aids in traffic control by opening up more servers and connections like roads for the traffic to go through so the website or app can maintain peak performance.
From beginning as a hobby to becoming a company collaborating with some biggest leaders of industry, Phil Dougherty and his team showed us how rewarding and beneficial to society someone in the computer science field is.