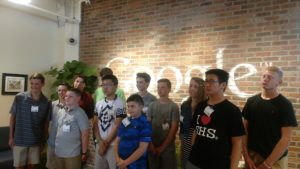 Google It
Okay Google, give me a tour of your facility. That's exactly what students in the STEM Career Tour were saying as they got the chance to tour one of the biggest companies in the world, Google! STEM Career tours recently gave 12 students the chance to go and see the Google Pittsburgh office located in Bakery Square. There, they were greeted by representatives of Google who showed them around their entire facility. It was inspiring to see so many bright young minds light up as they walked through the offices of the people who make their favorite search engine a reality. The biggest eye catcher for the students was seeing all of the code that was being written by all of the software engineers. Seeing the amount of work and coding that goes into the Google search engine really caught the attention of the students. The students were also amazed at seeing the sheer amount of resources that are made available to every google employee that works at the office, and really enjoyed learning about the camps that Google run to help students get on a path towards a career in STEM and hopefully a job or internship with Google!
Later in the tour, the students got the chance to sit down and play through a game called "Code Combat" which is a game that teaches the beginning levels of coding as they play. This was a wonderful opportunity to give the students a chance to get familiar with what coding is like and what the software engineers at Google work with all day. We also had the pleasure of getting a Q&A with 4 of the members of the Google team. They all shared their stories of what it's like working at Google and about their experiences working in a STEM field.
They also explained how they changed their career paths many times and they did a lot of trial and error to get to the point that they are in today. The process of trial and error is very similar to the coding process, as most of the time the code won't work on their first try, and they must do trial and error to fix all of the bugs. This was particularly interesting to hear about and the students all were inspired by everything they saw and heard about. By the end of the tour, they all wanted to become software engineers! The students had a wonderful time and we thank Google for finding time in their days to welcome the STEM Career Tour!