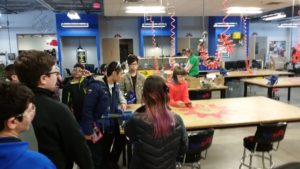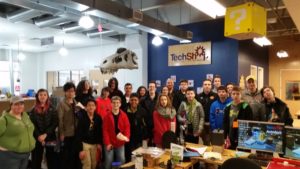 This past weekend, a group of middle school and high school students participated in a STEM Careers Tour of Google and TechShop Pittsburgh. What a exciting day!
Our first stop was Google located in the old Nabisco factory in Pittsburgh's East End. Google is celebrating its tenth anniversary in Pittsburgh and now employs nearly 500 people!
For the first part of our tour we participated in a hand's on programming activity. We worked in teams programming in the language of our choice (JavaScript or Python) in the browser game CodeCombat. It was fun to see how many levels we could accomplish in our group. Our programming guide mentioned that computer scientists just can't 'google' an answer when they get stuck with their programming code, so there is a lot of discovery that is required in their work. He also mentioned that it is okay for them to fail, but they need to look at their failures and understand why they occurred.
After our entertaining introduction to computer programming, we attended a question and answer session with several Google employees that included software engineers and product technology managers, all with a degree in computer science. We learned so much about Google! When asked where they see Google in 10 years, the panel said that they look to us to determine that. They could not have predicted where Google would be today ten years ago…smartphones have changed everything. The work environment at Google is team based with a lot of collaboration. Everyone has access to everyone else's code. When asked about the Google Doodle, we learned that there is a specific team dedicated to determining what, where, and when the Google Doodle will be shown, and they have complete autonomy to choose. The computer programmers also mentioned that they have no fear of artificial intelligence taking over the world. They said that there are so many limitations that exist. When looking for employees, along with being super smart, Google also values people who are helpful, respectful, trustworthy, and passionate. They look for people who will fit into their culture, but not people who are identical to everyone else. They value diversity.
For the last part of our visit we toured of the amazing offices at Google. There are no closed offices at the site, and each floor of the building has a specific Pittsburgh theme: from the Nabisco factory to Kennywood to a floor paying tribute to Pittsburgh's bridges. The conference room names and hallway decor are filled with design elements that reflect their floor's theme. Walking from the 6th to the 7th floor feels like you walking up the ramp to ride the Jack Rabbit! Food is also a major part of the Google work environment. To ensure that discomforts don't become distractions, Google has mini-kitchens stocked with food near all work spaces. Healthy food options are left in plain view for employees to take, while the not-so-healthy options are present, but a bit harder to find. Google also provides breakfast, lunch and dinner to the employees at no cost! Each Google office has one unique design feature and the Pittsburgh office is no different. A large cargo net is suspended from the ceiling to provide a very different meeting space, resting place, or whatever space. Believe it or not, but Google Pittsburgh also keeps their own chickens housed on the roof and their own bees for fresh honey. What an amazing work environment!
The next stop on our STEM Careers Tour was Techshop Pittsburgh located across the street from Google. TechShop Pittsburgh is a do-it-yourself makerspace, where you can create anything that you can imagine. There is equipment for woodworking, laser cutters, 3D printers, a metal shop, sewing machines, a waterjet cutter, an injection molding machine, and a plastic extruder. For a membership fee you have access to training and use of all this equipment, but you can also pay-as-you-go for workshops, classes and camps. Entrepreneurs, artisans and inventors are all welcome to create their masterpieces. You bring your idea, and TechShop provides the access, knowledge and speed. There are currently ~500 members at the Pittsburgh site and membership starts $150 per month. With someone to teach you how to use the tools you can get from idea to creation in very little time!
What an awesome day! If you are feeling inspired to continue learning computer programming, check out Google CS First at www.cs-first.com and start your own computer science club. Who knows, maybe one day you'll be hanging out in a cargo net writing code.