Pioneering a Better World
As part of the STEM Career Tours, the students at Providence Heights Alpha School had the honor of visiting a company that has made it their mission for making the world a better place through carbon technologies. During World War 2, the military asked the Pittsburgh Coke and Chemical to develop a new material to use in gas masks to filter out the contaminants. It was there that the Calgon Carbon Corporation was formed with the goal of revolutionizing carbon technologies. The Calgon Carbon Corporation has made it their mission to protect people and the environment from contaminants in water, air, food and industrial processes. They do this through their various carbon technologies that use activated carbon. What is activated carbon? Activated carbon is a porous material that removes organic compounds from liquids and gases by a process that is known as adsorption. Through this process, the organic molecules contained in a liquid or gas are attracted and bound to the surface of the pores of the activated carbon as the liquid or gas is passed through it. Our students were amazed by what we saw at Calgon Carbon and were truly inspired by what the company is achieving. Most of the students had never heard of these processes before and were very interesting in learning further details by asking questions to our tour guides.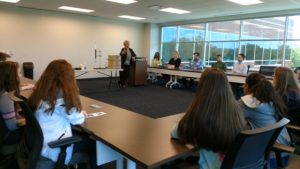 The end goal for Calgon Carbon is to create a cleaner and better world for people to enjoy. Their message to the students was not only inspiring, but also encouraging. The students enjoyed learning about how important the use of carbon technology is in our world, and how much contaminants can be found in everyday products and processes. We thank Calgon Carbon for taking the time out of their day to accommodate us and really appreciate them educating the students on their products and mission.